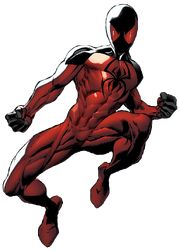 Kaine Parker, currently known as the Scarlet Spider, is the clone brother of Spider-Man. Previously a super villain who wanted to make his "brothers" Peter and Ben suffer, Kaine ultimately sacrificed himself to rescue Spider-Man from being sacrificed by the Kraven family. He was brought back to life during the Spider-Island incident, after which he took off on his own on good terms with his brother for the first time in their lives. 
Kaine made his way to Houston, where he found himself unable to stop from helping people in need as the costumed hero, Scarlet Spider. He rescued Aracely, a mexican girl possessed by the Aztec god of war, and became her champion- with both leaving Houston to join the latest iteration of the New Warriors. 
Spider-Man: Maximum Clonage Boxset (1999)
Edit
Kaine's first action figure was included as part of an eight figure special giftset based on the Maximum Clonage storyline, released in 1999. The set included Spider-Man, An unmasked Peter Parker Spider-Man, Scarlet Spider, Ben Reilly, Jackal, Sandman, Spidercide and Kaine. The Kaine figure was actually just created out of several figures from Toy Biz's other lines at the time. His body was an Archangel repaint, his head was borrowed from the Hercules line's Iolaus, and his cape was taken from an Age of Apocalypse Gambit.
Return of Marvel Legends Rocket Raccoon Series- Scarlet Spider (2012)
Edit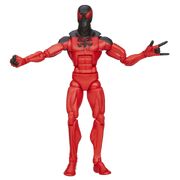 Kaine received a figure depicting his Scarlet Spider persona in the Return of Marvel Legends line's sixth wave, the Rocket Raccoon series. As Rocket Raccoon was a miniature build-a-figure, only three of the figures in the wave included his parts, and Kaine was not one of them, leaving him with no accessories of his own. Kaine is a straight repaint of the Big Time Spider-Man//Future Foundation Spider-Man mold, previously seen in the Return of Marvel Legends Arnim Zola BAF Series, simply repainted to feature Kaine's simple red and black costume.
3 3/4" Scale
Edit
Ultimate Spider-Man- Marvel's Scarlet Spider (2013)
Edit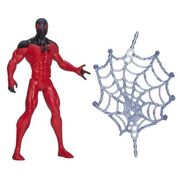 Kaine received a figure in the smaller budget Ultimate Spider-Man series, based on the Disney XD cartoon series of the same name. This Kaine figure lacks most of the articulation of the Marvel Universe line, only featuring movement at the hips, shoulders and neck. His only accessory is a "capture web net", a large net of webbing that can be placed in his open hand. For some reason, this figure was also released under the erroneous name "Web Strike Spider-Man", which ironically boasts that the figure "Looks like the web-slinging superhero".
Other Figures
Edit
Marvel Super Hero Adventures- Scarlet Spider-Man and Venom (2013)
Edit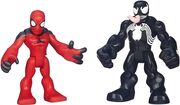 The Scarlet Spider was included in the Playskool created "Marvel Super Hero Adventures" series of small, 2" pseudo-chibi mini figures designed for younger children. Kaine, marketed as the "Scarlet Spider-Man" is packed in with Venom, and features limited articulation at the shoulders, hips and neck. The costume is a near identical recreation of Kaine's Scarlet Spider suit, but oddly features a standard Spider-Man head instead of a black-colored Scarlet Spider head.