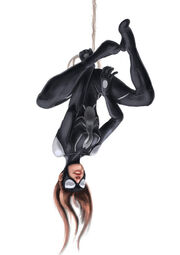 Anya Corazon
, currently known as
Spider-Girl
and previously known as
Arana
, is a superhero and ally of Spider-Man. She gained her powers when she was caught in the middle of a fight between two ancient factions, The Spiders and The Wasps, and was recruited into WebCorps where she worked with her partner, Miguel. 
After leaving WebCorps, Anya was hunted by members of the Kraven Family, who were trying to kill all of the spiders and sacrifice Spider-Man himself to bring Kraven the Hunter back to life. Anya was able to survive, but was ultimately captured alongside Arachne and Madame Webb. When Arachne took over the deceased Madame Webb's role, she passed her costume down to Anya, who then took up the Spider-Girl name. 
Marvel Legends: Infinite Series- Skyline Sirens
Edit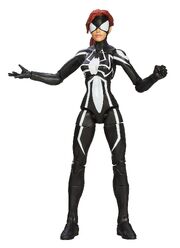 Part of the Marvel Legends: Infinite Series first wave of figures, the Ultimate Green Goblin series, inspired by the Amazing Spider-Man 2 film, Spider-Girl was included as one of the three major swap figures. Initial releases of the "Skyline Sirens" included Black Cat, while subsequent cases replaced her with Spider-Girl- a tactic also seen with Ultimate Beetle and Boomerang and Carnage and Toxin. The Spider-Girl figure is a repaint of the (at the time canceled) Jubilee mold, with new arms to replace the jacket sleeves and a newly sculpted head, making her the first official release on Hasbro's "Teen Girl" body. Spider-Girl included no accessories herself, but did come with the largest of the Build-A-Figure pieces- the Ultimate Green Goblin's torso.